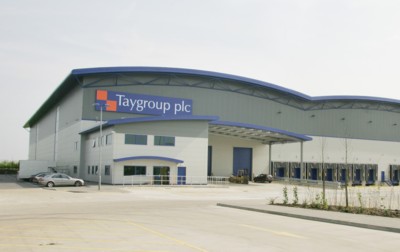 TAYGROUP PLC, BIGGLESWADE
The 13,835m2 development to provide a High Bay Warehouse Unit with linked Amenity Pod, detached Offices and Maintenance Building at Market Garden Road, Stratton Business Park, Biggleswade included the access road to the site and all associated works. The Design & Build building contract was undertaken in 28 weeks.
The 11566m2 high bay warehouse and the linked 482m2 two storey amenity pod are of steel frame construction on pad foundations and reinforced concrete floor slabs. The curved roof cladding incorporates roof lights and the external wall cladding is vertical profile sheeting with additional brick cladding for the pod. Internally the amenity pod has precast concrete upper floors, steel staircase, toilets, passenger lift and raised access floors. While the warehouse has internal racking.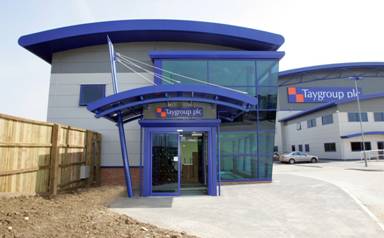 The 595m2 two storey office block, detached from the main development, is of the same basic construction details with external partial brick cladding and profile sheeting. Internally the steel staircases, raised floors, internal walls and partitions, sanitary installations and passenger lift complete the building.
The separate 119m2 maintenance building follows the same basic building format.